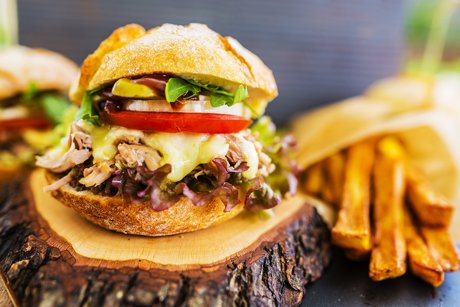 There's always a fun vibe happening near Orange County homes at The Shwack Beach Grill in Dana Point. Locals come hungry and leave with filled bellies and full smiles. Learn the local lingo on this Orange County property and come in for Breki, Shwack Core or Din Din.
Rise and shine when the doors open at 7 a.m. Greet the day and go with a dawn patrol egg sandwich or sit and savor one of the breakfast combo meals. The daytime menu is filled with options for all cravings. There are six salads to choose from including a light summer spinach, pesto chicken or seared Ahi Tuna. Beachside burgers are served up hot and juicy with Shwack spuds. Add ons include avocado, sauteed mushrooms, cheese and fried egg. Sandwiches satisfy those cravings for chicken or fish. For a different twist try some tacos which come with the same meat choices. Finger licking ribs are great for dinner and have quite a following from those living in Orange County homes.
Stop in for happy hour weekdays from 4 to 6 p.m. and grab some shwacatizers. Buffalo blasters, feta spin fins and buffalo blasters all pair nicely with lagers and ales. First time at Shwacks? Don't worry about the line at the door. It's all part of the ambiance, and speaks to the quality of the food served. Friendly staff keep it moving quickly and soon everyone will be enjoying their meal. View The Shwack Burger Grill Menu online here.